When Cardi B. publicly calls one of the stars of your show a "b*tch" and launches a GoFundMe account to cover legal fees for the other, you know you have a hit on your hands.
Netflix's Tiger King is everywhere! Playing out like an episode of Jerry Springer on steroids, the docuseries follows Joe Exotic, a gay, gun-totting redneck and his two husbands as they beef with self-righteous tiger queen, Carole Baskin. A murder plot, betrayals, hilarious diss videos, animal abuse, presidential runs, and hundreds of big cats fill the seven episodes with enough salacious fodder to intrigue all demographics.
Carol you think you slick bitch 😒😒😒😒

— iamcardib (@iamcardib) March 27, 2020
Bout to start a gofundme account for Joe .He shall be free.

— iamcardib (@iamcardib) March 28, 2020
Thankfully, several of the tiger sanctuaries featured on the program no longer exists. As documented in the show, U.S. Fish and Wildlife Service have been knocking on the doors of sanctuaries clouded by tales of big cat abuse. Carole Baskin (and eventually Joe) champion this cause in the film, helping to eliminate rivals by spilling their dirty deeds to PETA and the FBI.
One sanctuary that still seems to be open despite being raided by the feds is Doc Antle's Myrtle Beach Safari. Doc is the charismatic tiger charmer that lives on his estate with multiple girlfriends and comedian Lil Duval.
View this post on Instagram
When the binge-watching concludes, the fates of some Tiger King sanctuaries appear in the air while others seem to have more defined futures like Big Cat Rescue. These six are accredited by the Global Federation of Animal Sanctuaries, which means they've jumped through a bunch of hoops to make sure everyone understands they're about preservation and education, not abuse. They're also likely not in the crosshair of the FBI for illegally selling or breeding tiger cubs.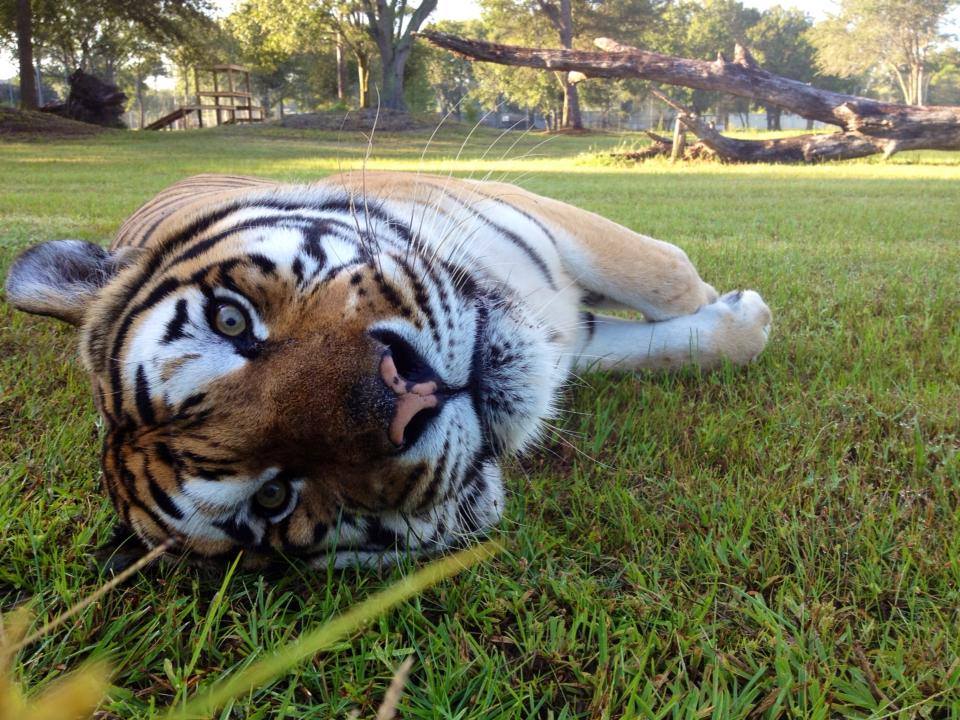 Save the hate mail. Big Cat Rescue owner Carole Baskin operates a PETA-friendly sanctuary down in Tampa, Florida. Word on the street is that if you tip Carole directly, she'll reenact scenes from Joe Exotic's "Here Kitty, Kitty," but we're not the ones that told you that.   
"Big Cat Rescue is one of the largest accredited sanctuaries in the world dedicated to abused and abandoned big cats," their website claims. The controversial sanctuary houses "about 80+ lions, tigers, bobcats, cougars and other species most of whom have been abandoned, abused, orphaned, saved from being turned into fur coats, or retired from performing acts."
Big Cat Rescue is heavily involved in ending private possession and trade of exotic cats through legislation and education.
12802 Easy Street
Tampa, Florida 33625
This Arizona wildlife refuge specializes in treating injured bobcats among javelina, birds of prey, and coyotes. Many of the animals receiving care are released back into the wild when deemed healthy enough to take care of themselves. Wilbur was brought to the Tucson Wildlife Center as a two-week-old Bobcat kitten after being found alone by a young boy at a construction site. Wilbur will need meds for the rest of his life, so is one of the animals that will remain at the sanctuary indefinitely.
13275 E Speedway Boulevard
Tucson, Arizona 85748