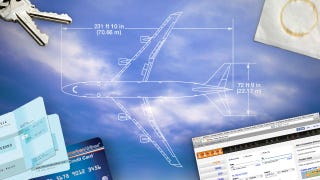 It's never been easier to compare travel and accommodation prices using sites like Hipmunk, Kayak, or Google Flights, but a little extra legwork can save hundreds on airfare, hotels, and attractions. Career traveler Matt Kepnes explains his best travel hacking tips just in time for your upcoming travels.
Travel Hacking is a phrase that gets thrown around a lot these days. You see it on many travel websites that seek to explain how to become a travel ninja or ultimate traveler. Travel hackers are the people constantly chasing miles, rewards points, and elite status. They are looking for every possible way to game the system.
Most travel hacking is about using miles and rewards to get free flights or accommodation. True travel hackers accumulate points and status like a badge of honor. Need to take 16 flights in 30 days to get a certain elite mileage status? No problem. Get triple miles on a new route? No problem, I'll fly it tomorrow. Sign up for this card, fill out this form, or enter this contest to get 5,000 hotel points? Easy. These travelers remind me of that scene in "Up in the Air", where the main character says, "I don't do anything if it doesn't benefit my mileage account."
However, for me, travel hacking is more than that. It is about bringing costs as close to zero as possible. Since only the die-hards really want to spend hours and hours putting together mileage routes that might get them 100 extra miles or reading the fine print to find a loophole they can exploit, I've put together this guide for the casual traveler who still wants to travel cheap, but who might not have the time nor the desire to be a black-belt-level travel ninja:
How to Hack to A Flight
Since flights are usually the first thing people research when they travel, I thought I'd deal with this subject first. Searching for a cheap flight is easier said than done these days. I recommend signing up for Airfarewatchdog so you can stay alert to cheap flight deals in your area. Flexibility is key to finding cheap flights, as deals are sometimes around for only a few hours. A day can mean the difference of hundreds of dollars. But if you need flights on a certain date, then you need to work the system a bit.
Let's look at an example. Say I am flying from New York City to London. This is a popular route, and is served by a lot of airlines. I picked the date October 17th with a return date of October 27th.
Step 1: Use a site like Kayak as your baseline. They search multiple websites at once so you can see prices across the board. Moreover, I also like how they let you search a few days before and after your selected date. In the US, I also like Travelocity, but there are tons of good aggregators around the world.
Kayak returned these results for flying from New York to London:
Step 2: Cross check with other, more global aggregators like Skyscanner or Momondo to see what they come up with. These two are my favorite as they tend to search a wider range of booking sites as well as discount airline carriers. I never book a flight without checking these sites first. (Another good one is Mobissimo.)
Skyscanner results:
Momondo results:
Step 3: Find the lowest fare and head to that airline's website to see if it is less. Sometimes airlines price tickets less on their own websites than they do on aggregators as a way to entice people to book directly. As we see above, the lowest fare is $592.19 USD on a low-cost airline called Mandarin Airlines (actually, when you click the link it sends you to Astraeus Airline) with Iceland Express next at $676 USD. I couldn't find a booking form on Astraeus (they are a charter operation partially owned by Iceland Air) but checking on the Iceland Express website, we see the price is the same:
Step 4: Next, check the airline's foreign website to see if the price is cheaper in another currency. (i.e. britishairways.co.uk instead of britishairways.com) Depending on your currency, you might be able to take advantage of the exchange rate and book in another currency while getting charged in your own currency, thereby saving money. On our example, this doesn't work because we are going from the United States to England and the English Pound is worth more than the US dollar. Additionally, the Iceland Krona is not worth less than a dollar. However, if we were going the reverse way, this would work. I've used this method when flying to New Zealand since their currency is worth less than the US currency.
Step 5: Check alternative routes. Most major airports have expensive fees and taxes that can add a lot of money to the price of a ticket. I like to check other big airports and then see if taking a discount flight to my final destination is cheaper. This is especially good in Europe since they have so many airlines. For our example, maybe flying to Dublin is cheaper, and then I can just take a quick Ryanair flight over to London. (Turns out, in our example, it isn't.)
Step 6: Check the airport's carriers. One thing I do quite a bit is to go to the airport's website and see what airlines fly into it. Sometimes you find small carriers that are not listed on aggregators or other search engines. This is sort of my last double check to make sure I checked all possible airlines. After all, I don't want to find out later that there was an airline that offered a cheap flight but wasn't listed on an aggregator. (Not all airlines appear are on flight search engines.)
After I do all that checking and work, I then compare the prices of each search and see what is cheapest. I might look at a few more websites and search for a lot of deals if I've found big differences between the numbers. Moreover, it is also good to play around with the dates of your trip. Sometimes leaving a few days before or after can make a big difference in price. In our example, it didn't really make a huge difference when I looked at it. Most of the major airlines were much higher than what we found during that period:
So our $593 USD flight to London on Astraeus airline looks to be the best deal and is more than $200 USD cheaper than most of the major airlines and $100 USD cheaper than Iceland Express. Notice that Astreaus only appeared on 1 booking site and that booking site was not US-based. That's why it is so important to check multiple sites from all over the world, because not all sites check all airlines. All this work took me about 45 minutes.
Note to Critics: While much of the above is pretty common sense "shopping around," many people don't know about these overseas websites or that you can book on an airline's foreign website. So while $200 USD isn't a huge savings, I write for a beginner audience and you would be surprised at how few people know about this sort of stuff. I think of my parents whenever I write a post. They are very, very unsavvy travelers so I am writing for their level of knowledge. That way I don't assume too much about what people know and don't know.
The second way to fly is to use frequent flier miles to fly for free. And this is where the real "travel hacking" comes into play. And that means earning airline points and miles any way possible. This is the preferred method of travel hackers. There are plenty of ways to get thousands of miles without ever setting foot on a plane, but you have to be willing to put the time and energy into it. However, I found the work to be worth the thousands of dollars in free flights. Here are the major ways to get lots of free miles besides actually flying:
Sign up for a branded airline credit card: Whether you love Delta, fly United and the Star Alliance, live and breathe Jetblue, or are hooked on Oneworld, all U.S. carriers have a branded travel credit card that gives you 25,000-30,000 points when you sign up and make one purchase. That's a free economy ticket right there. Airline credit cards are the best way to kick start your mileage balance. I've used these cards to collect over 500,000 frequent flier miles. (Here're my tips on looking for a good one.)
Watch out for special promotions: I sign up for all the airline mailing lists. I always watch out for special 2-for-1 mile deals. Or when they have special card offers to earn extra miles. Last year, British Airways offered a card that gave you 100,000 miles just for signing up. That was a first class ticket home. American Airlines just gave me 1,000 miles for watching a demo on their new shopping toolbar. I once got 5,000 miles for joining Netflix. Marriott is giving away Silver status, and Delta recently gave away miles for watching a video about Bose headphones. Promotions help. It's how I fly business class for free most of the time.
Sign up for a non-airline credit card: Sign up for a non-airline credit card like a Starwood American Express card and you can get 10,000 sign-up points. When you convert 20,000 points into miles, you get a 5,000-mile bonus. I highly recommend signing up for this card too but signing up for any "points" card like the AMEX travel card or a Capital One card will do. Afterwards, you can transfer your sign-up bonus points to the airline you use and redeem them for flights.
Take the AA challenge: If you are taking a long trip, go with American Airlines. By paying $300, you can take the 10,000 point challenge. If you accumulate 10,000 points in 3 months, you get 1 year platinum status, which gives you get automatic upgrades into business class as well as lounge access. They do not advertise this on their website, however. You must call customer service and ask to take the challenge.
Do a mileage run: If you are only a few thousand miles away from some form of elite status, you can do what the travel ninjas call a "mileage run." This means you find cheap fares or special bonus mileage offers and take that flight. It can be a weekend getaway, a week away, or an afternoon jaunt. I've known people to fly around the country in 1 day simply to get a huge cache of bonus miles. Yes, you spend a bit of money on the flight, but having that elite status for a year will be well worth it.
Buy miles: This isn't actually a way to get a free flight but it's a good way to get a cheap business class flight. Many airlines run special offers where you can get 100% bonus on any miles you buy for up to 100,000 miles. This usually costs around $1,300 USD. However, that amount of miles is enough to go business class somewhere in the world so you essentially get a business class ticket at an economy class price.
Note: You will have to sign up for airline frequent flier programs in order to be eligible to redeem miles.
Note #2: Most travel hackers sign up for lots of credit cards as they have the largest one time bonuses (think 30,000-50,000 miles). If you aren't comfortable doing that, it will take longer to accumulate miles. Opening credit cards don't necessarily hurt your credit. It's not opening them that is a problem. However, if you are opening and closing card every month, then you'll have a problem and I don't recommend "churning" cards. However, opening a few cards per year is not going to ruin your credit.
Some good sites worth following for more travel hacking deals:
How to Hack Your Accommodation
Outside of flights, accommodation is usually the next big travel expense. Luckily, it's quite easy to get free or cheap accommodation.
Hotel Deals: Getting a sweet deal on a hotel is actually really easy, especially if you are in the United States. Simply head over to Priceline or Hotwire and bid on rooms. When you know your dates, just head to Better Bidding first to see what similar people bid on and won at. Use that as your baseline. I used this method to get a hotel room in Times Square, New York during Christmas for $85 USD per night. (That is a huge bargain!)
And, just like with airlines, many hotel branded credit cards offer huge sign-up bonuses, which can get you lots of points to redeem for free accommodation. There are also non-credit card promotions that can get you some points, too.
Stay with Locals, Stay for Free: Use Couchsurfing or similar sites like Global Freeloaders, and Hospitality Club (who merged with another site called Servas) to find a local who is willing to host you during your visit to their city. You'll get a free place to stay (sometimes a bed, a couch, or an air mattress), a local who can help show you around, and the chance to learn a bit about the local culture. It's a much better way to learn about a city than staying at a hotel. I am a particular fan of Couchsurfing and have used it often.
Work for Your Accommodation: Many hostels around the world will let you work there in exchange for free room and board. All you do is clean a few hours in the morning, and you get the rest of the day to yourself. Hostels are usually thought of as places for singles to party but there are variety of hostels out there for all people and all ages. Don't be afraid to look into this just because you "aren't in college anymore."
House-sit: If working for a hostel isn't your idea of a good time, then consider house-sitting. In exchange for watching and cleaning someone's home while they are away, you'll get a place to stay in the area you are visiting. Good house-sitting sites include:
Go Camp in a Garden: The concept is simple: people offer their gardens for you to camp in. You can search for suitable sites by place, and they range from the basic "here's a spot for the night" to the more glamorous that offer full access to the house. The offerings are mostly in the UK. There are a few spots dotting the rest of the world, but most locations are in the British Isles. It's growing in popularity around Europe. Check it out at: Camp in my Garden.
WWOOFing: One of the most popular ways people get free accommodation is to work for it. World Wide Opportunities on Organic Farms (WWOOF) is a global organization that connects travelers, foodies, agriculturalists, or anyone really that wants to work on organic farms that need laborers. In exchange for working on the farm a few hours a day, you get your meals provided and a place to stay. Sometimes I've heard of people getting paid if they stay long-term, but generally they don't. I think this is most popular in New Zealand and Australia, but you can find farms anywhere in the world. (For example, I had friends work in a winery in Argentina.)
Visit WWOOF for more information.
How to Hack Attractions
Flights and rooms are your biggest budget busters, but cutting down on the cost of attractions is also essential as we move toward the goal of "the no cost trip."
City Tourist Cards: City tourist cards, while costing money, offer unbelievable savings for those who want an attraction-heavy vacation. If you plan on seeing lots of museums, attractions, and historical sites, you'd be foolish not to get one of these discount cards. As a general rule, they will save you about 50% off the cost of what seeing the attractions individually would have cost.
Find the Free Days: Most museums have special discount times or free nights. Before you go anywhere, make sure you look on the museum's website to find out if they offer free visiting hours. Even famous museums like the Louvre and the Guggenheim offer free entrance at certain times. If I don't have a tourist card, I always look up the museums I want to visit to see if I can get in for free.
Don't forget that many attractions offer military and student discounts, so make sure your carry that kind of identification around! If you don't have one or aren't a student or in the military, next time you are in anywhere in Asia, pick one up. You can get them made for you really cheap. Just saying.
How to Hack Food
To learn ways on how to save on food, you can visit my article on how to eat cheap around the world. However, here are some of my favorite tips:
Outdoor Vendors: Small stands that sell hot dogs, sausages, sandwiches, and the like are great places to get a cheap and quick meal. While in Sweden, I lived off these types of vendors – I could get a sausage for about $4 USD. In Amsterdam, FEBO and their croquettes kept my stomach full. In Costa Rica, the empanada seller filled me up for a dollar. These quick and inexpensive meals won't win any Michelin stars, but they will keep you full without emptying your wallet.
Street Food: In most places around the world (and especially in Asia), the streets are lined with little food stalls and areas where food is cooked openly on the street. You grab a plate, sit down in a little plastic chair, and enjoy a delicious meal. Street food is some of the best food in the world. Meals at street stalls (different from street vendors, who have a bit more permanent set up) cost less than a dollar most of the time, and are a great way to really experience the local cuisine. Many places – like Thailand, for example – wouldn't be the same if the street food disappeared.
Lunch Specials: Many restaurants, especially in Europe, offer lunch specials where items on the dinner menu are offered at a huge discount. You can get an amazing afternoon meal for a fraction of the cost you'd pay for the same meal in the evening. I usually tend to eat my "nice" meal during lunch because lunch specials and plates of the day are about 30-40% off what I might pay at dinner.
Buffets: While they don't always serve the best meals, buffets offer great value for your money, especially since they are all-you-can-eat. You can fill up on one meal for the entire day. (Well, I can't, but I can fill up for most of the day and avoid snacking.) Buffets are a good economical choice, and give you the most food for your buck. They typically cost around $15 USD.
How to Hack Transportation
Lastly, let's cover transportation and getting from point A to point B on the cheap:
Get a Tourist Card: Besides offering discounts on attractions, city tourist cards include free local transportation. You can't get much better than that. This is also another reason why I like city tourist cards – free buses, ferries, trams, and trains.
If you don't want to do that, just walk: Your two feet are the cheapest way to get anywhere. (Though not always the fastest.)
Car share: Sharing a ride is a great way to lower costs. Finding someone going your way to help with gas costs or driving can go a long way to greatly reducing how much you spend on transportation. Gumtree or Craigslist are sites are good for finding car shares. Travel forums are also good places to look for travel buddies, as are bulletin boards in any hostel.
Get Paid to Drive: In North America, there are a lot of companies that will pay you to drive someone's car from point A to point B. Maybe they are moving, or the car was bought online – who knows, but you are essentially a car courier. They give you the car, a date to get it to the destination, and gas money. It's great for long-distance travel. In Canada, hittheroad.ca is the major national company. It's hard to find a national company in the US, but this website provides a good directory of cars on the move: Autodriveaway.
While no trip may ever come close to 0, reaching for the goal is what's important as it keeps you looking for creative ways to travel. If you can take the "normal" cost of a trip and cut 50-75% off it, to me, you've travel hacked. Travel hacking is more than being just a mileage and points junkie – it is about finding ways to travel first class on an economy class budget.