If there's a monopoly on travel tips for Rome, I don't own it. I realize painting myself as someone aware of all the city's intricacies is futile. Even to seasoned visitors, Rome is a destination with a never ending supply of things to discover. Still, this is my attempt, a humble attempt, to help you make the most of your visit to The Eternal City.
One surefire way to utilize your time wisely is to avoid wasting hours queuing in lengthy lines. As you make your way to sites like The Colosseum and Vatican Museum, a sea of annoyed and sweaty tourists will begrudgingly welcome you into the mass of funky flesh blowing through an hour or three of their day just to purchase an entrance ticket. Don't let this be you.
My fiancée and I bought our tickets in advance online giving us the privilege of walking by those that did not. This very simple action can be done for all of Rome's major sights, including The Vatican and Forum. Believe me, it's the best bit of advice I'll offer in this entire article. There are a lot of tourists in Rome, and everyone has the same itinerary. Therefore it's mind boggling that so many opt to ignore a suggestion pounded into their heads by their hotel concierge, tour guide operator and friends who have been here before. Save yourself the frustration of standing in line and buy your ticket(s) ahead of time. Just don't buy a ticket to the place below.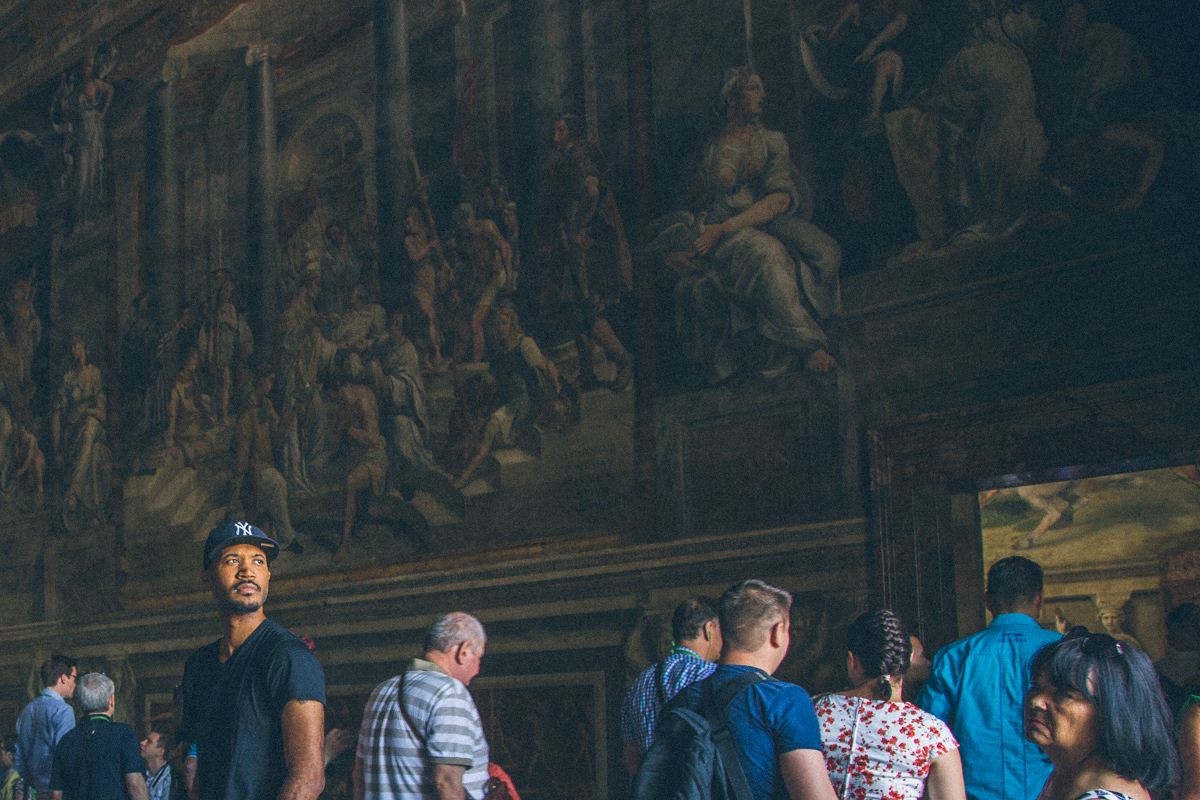 It's unfortunate God doesn't offer refunds on wasted time because once you stand in line at The Vatican Museum, you're going to want that shit back. I'll likely end up roasting marshmallows with Diablo for what follows, but unless you're an art history buff with a hard-on for frescoes, or an avid Michaelango fan, there are far better ways to spend your time in Rome than at The Sistine Chapel.
After spending four years in The Vatican Museum queue, you eventually make your way inside where you get to stand in another line. This one parades you through a never ending labyrinth of hallways, staircases and domes stuffed with tourists until you finally enter the sacred chamber known as the Sistine Chapel. There, you will be instructed to put your camera away because, well, "No photos." You will also be reminded that talking is prohibited, so you'll have to combat the temptation to prose with the poor sap you brought along with you. And if you do show off that evolved lexicon of yours, which mind you everyone does, security guards will utilize their megaphones to scold you. Doesn't make much sense to me either … maybe they aren't fans of adjectives. Who knows? When the time to leave comes, get ready to channel your inner-Moses because parting the sea of tourists blocking your path to the exit is a requisite. The exit, mind you, will be the highlight of your afternoon in hell, not the frescoes.
To the Renaissance fan club out there salivating at the opportunity to blast my critique of the Sistine Chapel, I'll make a concession. I'm sure it's a really cool place if you reduce the amount of people in the room by about 200. That and find a way to pop chalices with Pope Francis while observing "The Last Judgment" in silence, but chances are you're not Kim Davis … so why not spend your time doing something else?
Like eating! This should go without saying, but Rome truly does have some of the best pizza and pasta in the world. From low budget stalls to Michelin joints, there's something for everyone. For Pizza, Pizzarium near the Vatican is a must. Chef Gabriele Bonci claims to have created over 1,000 pizza topping combinations in his years of working dough, all of which explode in your mouth with flavor according to him. The line, busiest around lunch, tends to move fast enough. There are only a few standing tables outside though, so if you can't find a spot, take your pizza to go, find a park bench and plop down. Pizzarium is also relatively inexpensive so eat here during the day and blow your food budget at dinner.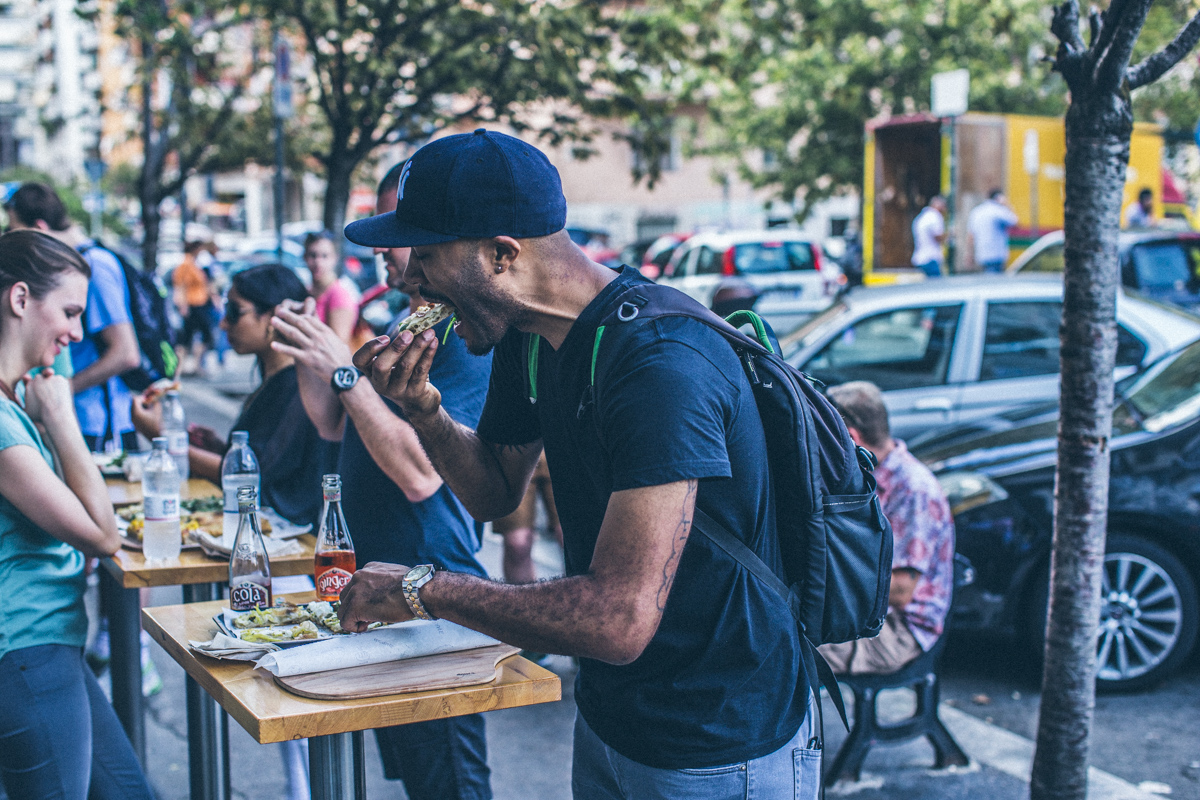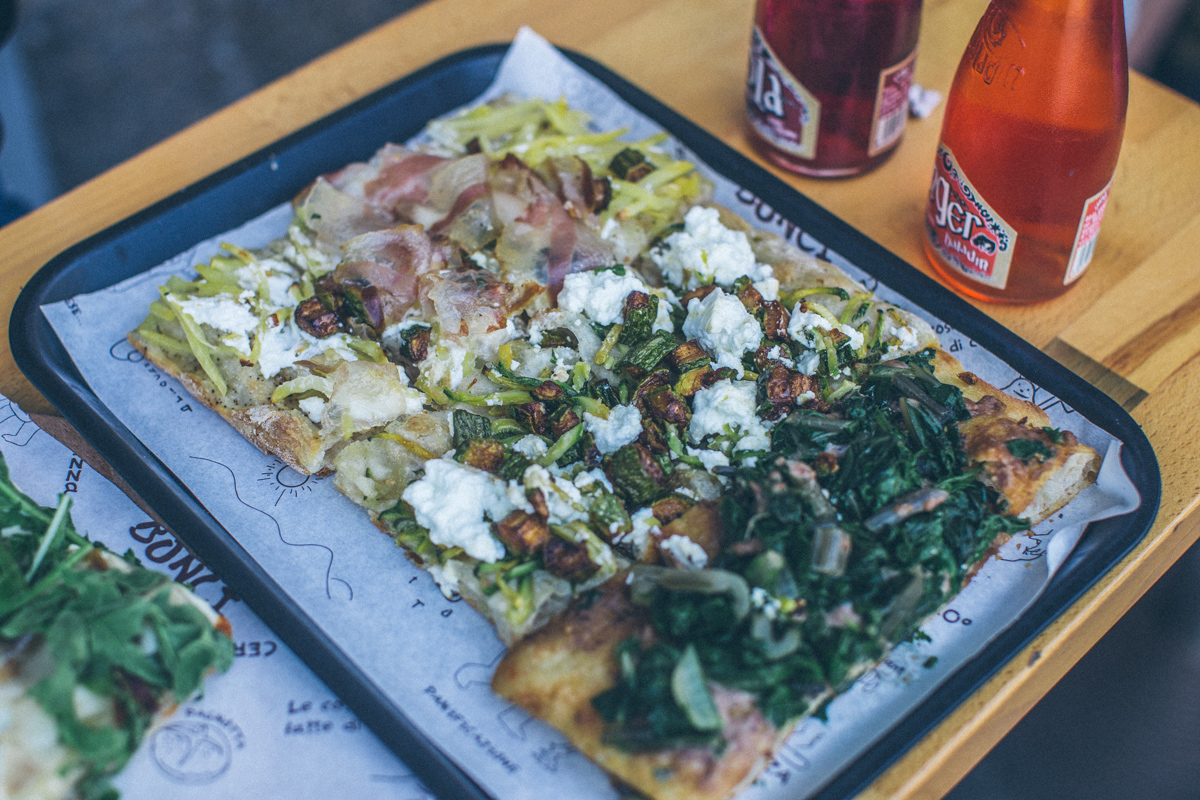 For the pasta lovers out there, make best friends with cacio e pepe. Eat it for lunch. Eat it for dinner. Eat it after your fourth Negroni. Just eat it. The ingredients are simple: pepper, Pecorino Romano cheese, butter and pasta. It's good. Damn good. I once had a friend ask Anthony Bourdain, who also enthusiastically celebrates the local dish, what restaurant has "DA BEST" cacio e pepe. Holding the secret dear to his heart, the CNN host threatened to kill my associate if she pressed further, but I … Eric D. Berry … I will not take your life. In fact, you don't even have to ask because I'll volunteer the information. The answer is Osteria Cacio e Pepe. Trine and I did manage to track down Bourdain's favorite spot, a local joint in the Prati area, but we preferred the cacio e pepe at Osteria in Trastevere.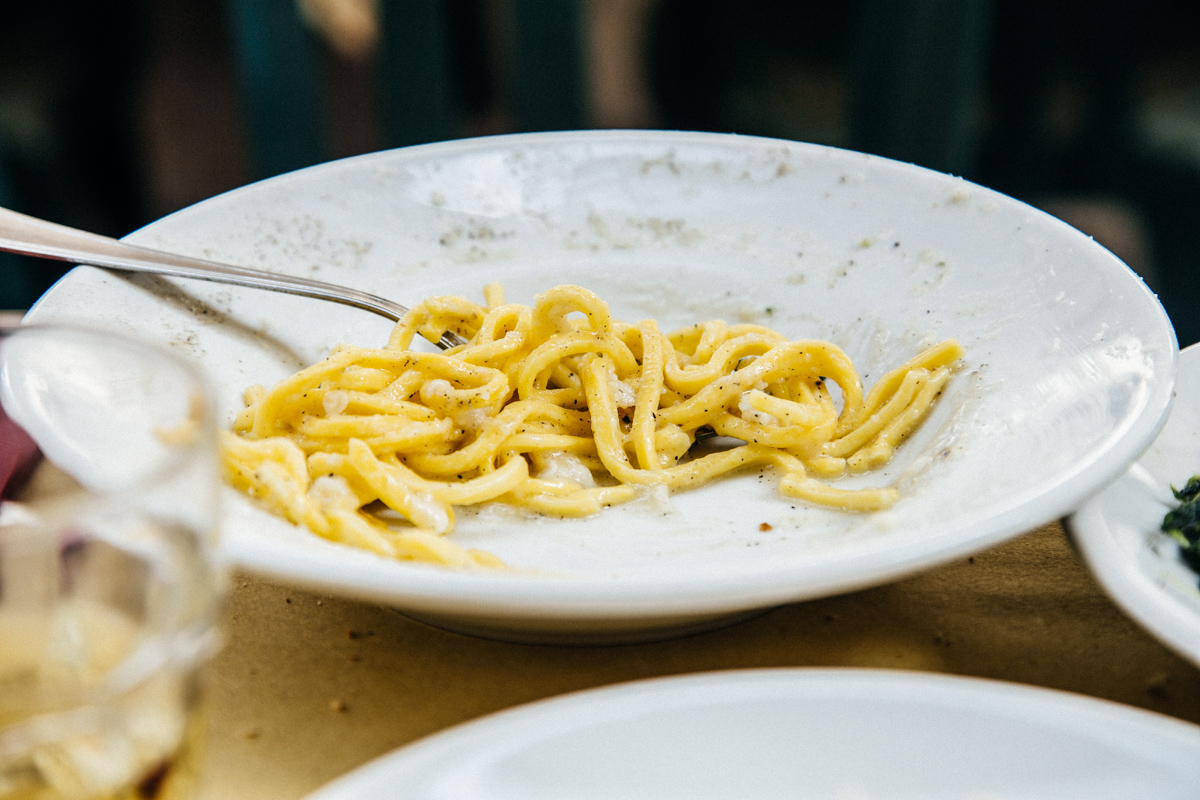 Speaking of Trastevere, If you're a hipster, owner of a polaroid camera, someone who religiously downs Stumptown Coffee while walking their pomeranian or owner of any Kanye West album post Graduation, don't bother spending your nights anywhere other than the very bohemian Travestere neighborhood. After the sun finishes highlighting the Tiber magenta, this is where you will find the cool kids hanging. It's also where you're likely to score drugs or pickup an STD if you're into that sort of thing.
I'm sure you've heard great things about The Spanish Steps as an alternate hangout spot, but there are people, at least I've been told, who think Hollywood Boulevard is cool. I'm not saying skip The Spanish Steps, but after about 10-minutes, the guy singing Ed Sheeran covers on his busted guitar will likely send you into a deep depression. It's a wicked spiral, man. Why stick around for that shit? Trastevere feels alive and is one of the most picturesque areas in the city. Spend your downtime here.
There's also no shortage of great spots to eat in Trastevere. Cantina Lucifero and Constanza are high on my list. The seared duck breasts with honey and truffle at Lucifero is reason enough to visit. For cocktails, AkBar is a favorite. While arguably a bit on the pricey side, the ambience and quality of their drinks make up for the tab. The owners also like to bring customers free food to sample as long as you keep the boozing up.
Rome is a town best explored on foot. You can Uber or taxi around, even rent a vespa, but then you're likely to miss a lot of the city's charm: the cobble stone alleyways, the hidden pizzerias, the quaint wine bars, the Romans. Renting a vespa sounds like a lot of fun in theory, but have you seen the way Romans drive? If crashing a scooter into a fruit stand sounds like an ideal way to spend your morning, be my guest. For the rest of you, walk it or utilize public transportation unless you're really crunched for time. Let Rome sneak up on you while you get to know her intimately.
My last bit of advice is simple: "Google Map That Bitch." When it comes to navigating Rome, load up your smart phone's map with pinpoints of the places you want to visit. This will help you make better use of your time as you check off multiple locations in a specific area during one part of the day instead of aimlessly wandering back and forth across the city. There's nothing more frustrating than learning that the really good gelateria you heard about was just a stones throw from the Pantheon that you visited the day before.
I always tell people visiting Paris for the first time to take it easy, enjoy themselves, not to pack their days full of sightseeing. This same advice can be administered for Rome. This is truly a magical place that you'll have to try hard to not like. Just remember, there's nothing wrong with sitting in a cafe for a couple of hours and watching the city pass by if that's what you feel like doing. Or trading an evening of last minute sightseeing for laughs over wine at a piazza. It's YOUR holiday. Go to Rome, see its history, walk its streets, taste its food, drink its reds, take it easy … and if nothing else, skip the Sistine Chapel.
Eric has revolved in and out of passport controls for over 20 years. From his first archaeological field school in Belize to rural villages in Ethiopia and Buddhist temples in Laos, Eric has come smile to smile with all walks of life. A writer, photographer and entrepreneur, the LA native believes the power of connectivity and community is enriched through travel.