Pop singer Jason DeRulo is trippin'. His poorly timed Italian vacation, and the pictures he is posting to social media are sending a ridiculous message about the Coronavirus to his 5.3 million followers. Earlier this month, DeRulo shared an image of himself posturing on a Venetian canal cruise: "I'm in Venice, Italy. Caption this."
WHY AN ITALIAN HOLIDAY IS A TERRIBLE IDEA
Italy has the second highest number of confirmed Coronavirus COVID-19 cases in the world, only behind China's 81,032. The infectious disease has taken 1,809 lives in the European country as of Monday morning. The rapid spread of the contagion led the Italian government to shutter cinemas, museums, theaters, bars, restaurants, sporting events, schools and most of public society. And authorities have stressed that residents stay home and practice extreme social distancing.
CORONAVIRUS IN EUROPE
To be fair, Coronavirus isn't strictly an Italian problem. There are 6,672 cases in Germany, 5,241 in France and 9,407 in Spain. But Italy remains the epicenter of the virus with 24,747 Coronavirus COVID-19 cases. That's why it's so perplexing that Jason DeRulo would not only travel to a deserted Venice during this crisis, but would bloviate about his dance with potential death (or deaths of others he could possibly infect).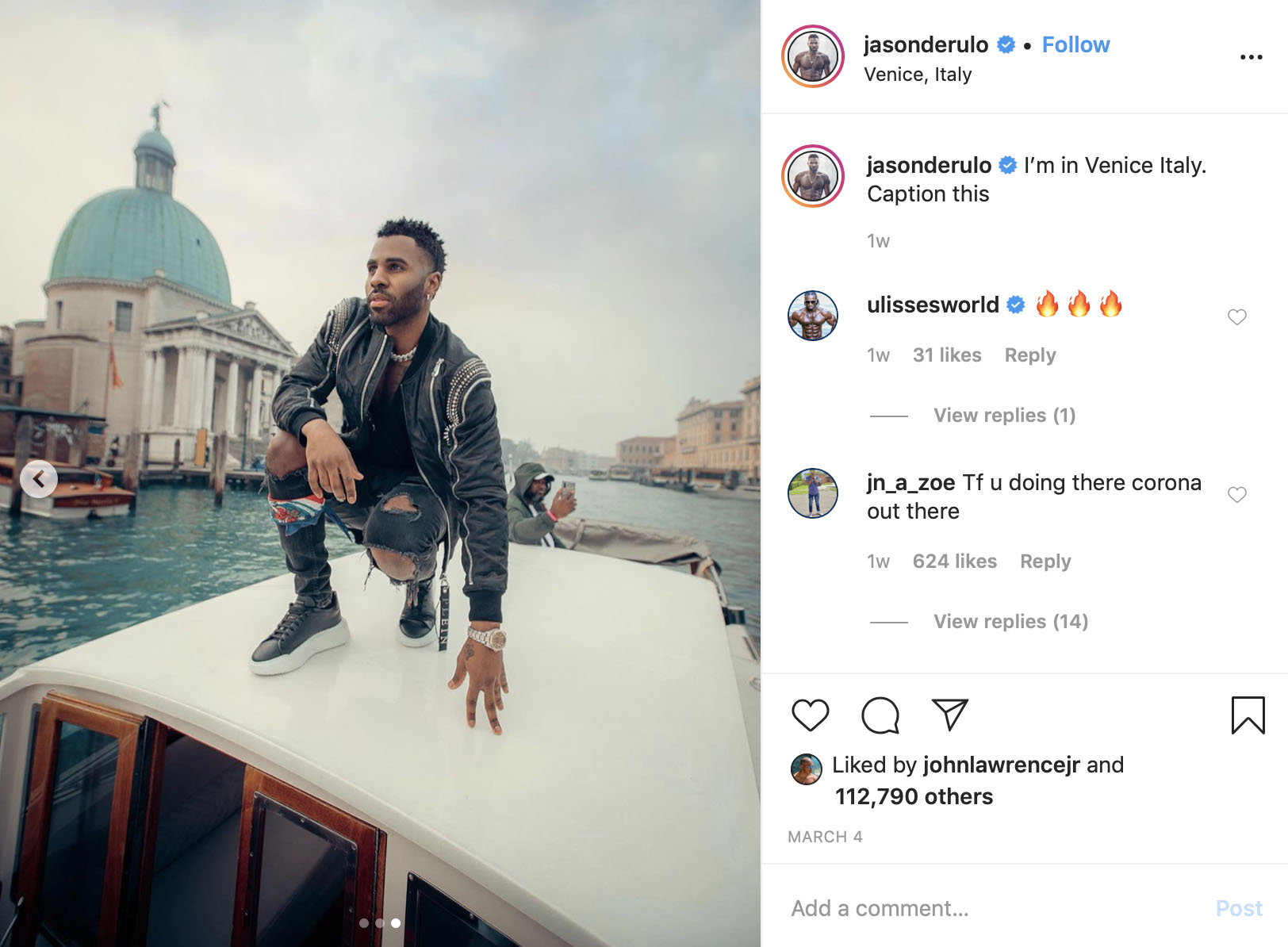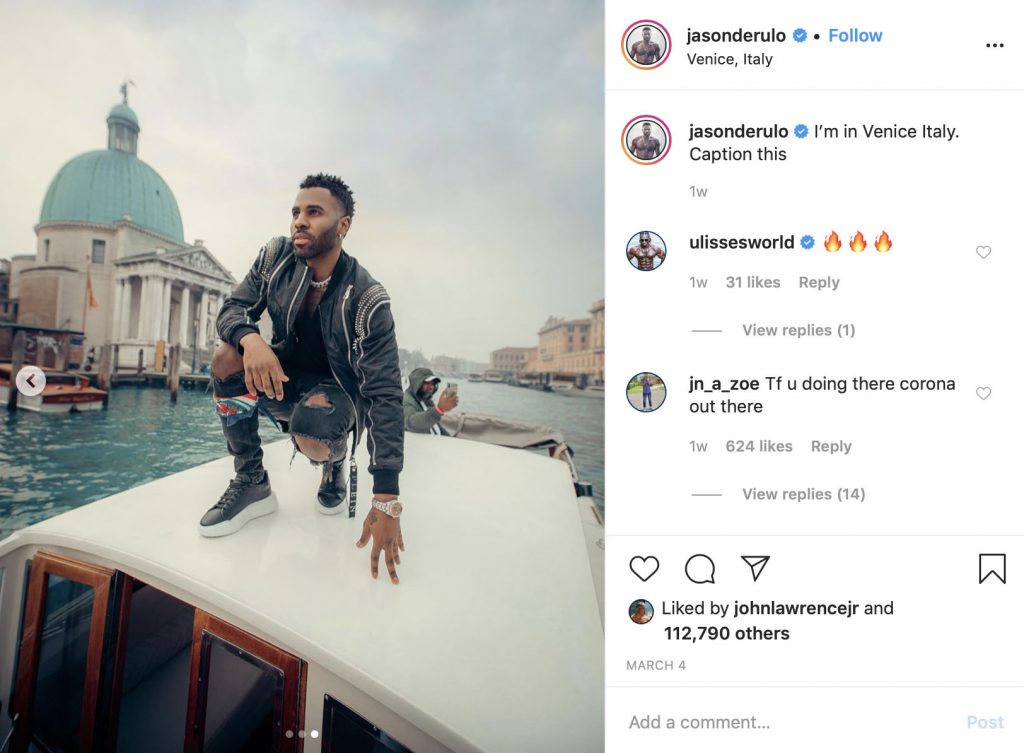 His followers took him up on his caption suggestion, writing things like "I know you can go wherever you want, my king. But please do careful, keep your hands as clean as possible, OK?" And, "Jason get out of Italy!" Providing proof of our society's collective ignorance, many of his fans celebrated him jet-setting in the midst of a pandemic. Some followers even took it a step further and pleaded with the singer to meet them. "Wait for us! We will meet you tonight" one Italian girl commented.
FAKING FOR THE GRAM?
Whether Jason was actually in Italy this month or before the outbreak spread is unclear. Sandwiched between his Italian post are grams taken in Los Angeles dated March 3rd and 8th respectively. If it's simply a PR move utilizing old images, posting them now is just as irresponsible as traveling to Italy right now would be. It's dangerous behavior for anyone – especially those with 5.3 million followers – to pretend that they're hanging out in a Coronavirus epicenter when they're really locked inside their plush LA mansion 6,000 miles away. No one should be traveling anywhere until this contagion is fully quarantined and the infected cannot pass along the lethal flu strain to others. And no celebrity should be promoting travel to outbreak epicenters at a time like this.
TRAVEL BAN
If Jason does want to visit Europe anytime though, he's SOL. US President Donald Trump's enacted a 30-day travel ban to and from Europe which went into effect on March 13th. Americans abroad will still be allowed to return stateside, but flights are severely limited and screening on arrival is taking hours.
Eric has revolved in and out of passport controls for over 20 years. From his first archaeological field school in Belize to rural villages in Ethiopia and Buddhist temples in Laos, Eric has come smile to smile with all walks of life. A writer, photographer and entrepreneur, the LA native believes the power of connectivity and community is enriched through travel.