From cntraveler.com by Meredith Carey
After nearly two years of a statewide drought emergency, California will likely see an incredible show of wildflowers.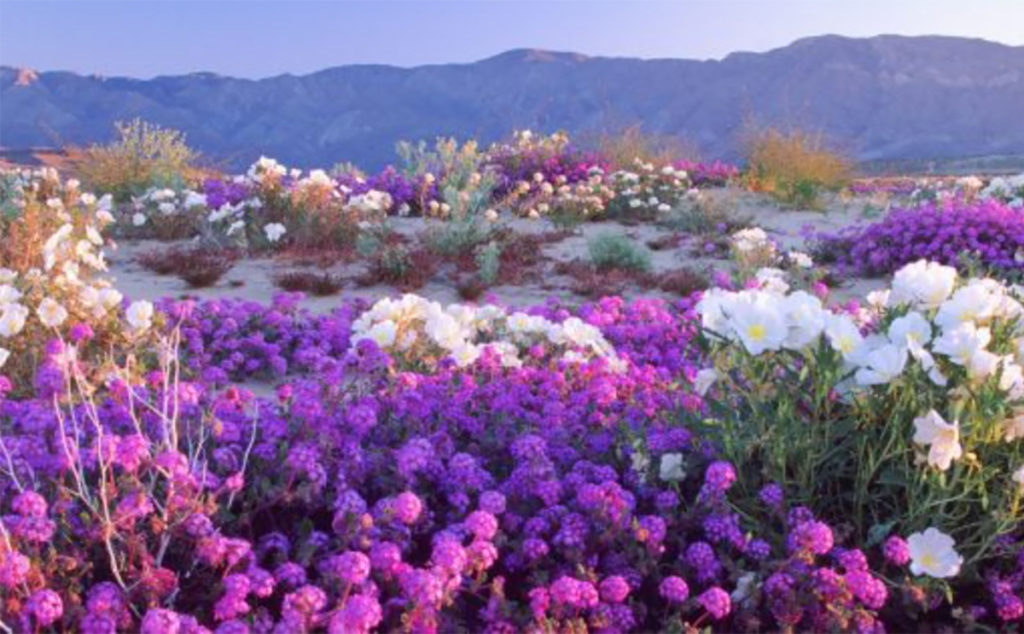 Since January 2014, California has been under extreme drought restrictions and the lack of rain has caused the stunning displays of wildflowers that usually come with spring on the West Coast to fall flat. But, with record rainfall in 2016 and two major storms already in 2017, bloom carpets in areas like the Anza-Borrego Desert State Park outside San Diego are expected to be spectacular this year.
Thanks to a once-in-a-decade rain storm and a particularly strong El Niño effect, Death Valley saw a stunning carpet of yellow, pink, and purple flowers in March. Those same blooms won't likely pop up this year, according to Death Valley National Park's Facebook page. In January, the park announced that it has received only 13 percent of last year's rainfall, leaving the chances of a repeat showing at nearly zero.
There's still hope for flower lovers: More than 300 miles south, a few national parks are expecting some beautiful floral displays, starting early to mid-March and lasting through mid-April. As long as February doesn't bring extreme hot or cold temperatures, Anza-Borrego Desert State Park expects a carpet of desert lilies, verbena, and dune primroses. And just an hour outside of downtown L.A., Antelope Valley is already preparing for a flourish of poppies, as the natural reserve has received the minimum rainfall for the flowers to appear. To stay up to date, you can call California's Wildflower Hotline.
Flights to L.A. are between $150 (from Chicago) and $300 (from NYC) round-trip for late March and there's plenty more to do in San Diego or L.A., depending on what SoCal city you choose as your home base. Make a long weekend of it and follow Traveler's guide to three days in L.A. or head to a revitalized San Diego that's not just for families going to Sea World anymore, with its new Pendry Hotel and the artisanal food hub that is Liberty Public Market.
If you've been putting off a trip to California, then we have just two words for you: flower power.