From cntraveler.com by Anna Katherine Clemmons

The Arizona Cardinals receiver has visited 93 countries, and counting.
For professional athletes, a long season grinds toward one goal: a championship. But win or lose, they all seek another offseason goal: rest and relaxation. The Atlanta Hawks' Dwight Howard fishes in Lake Tahoe and Aspen; Tom Brady takes his kids zip-lining through the forests of Costa Rica; and Golden State Warriors forward Draymond Green prefers to decamp to Cabo, Puerto Rico, or Miami.
But several NFL players have ignited a growing off-season trend: transformational, experiential travel. One ten-time Pro Bowler has been particularly influential, guiding younger players and co-founding a company that offers millennials more immersive vacations.
Arizona Cardinals wide receiver Larry Fitzgerald has visited more than 93 countries—and counting. When his off-season begins, the 33-year-old Minnesota native chooses new places to visit while also scheduling returns to favorite spots, like Tanzania. But whether it's his first or fifth time visiting, Fitzgerald doesn't just lounge on a beach or sit in a hotel with a room service menu.
"I'm a history guy, and I love really getting to know the people in the countries that I'm visiting," Fitzgerald says. "I like to push myself outside of my comfort zone."
After his first season as an NFL pro, for example, Fitzgerald explored Asia solo for 45 days. He walked the Great Wall, marveling at the manpower it took to build, and calls the Terra-Cotta warriors in Xi'an "one of the most beautiful things I've ever seen." He's marveled at Angkor Wat in Cambodia, and in Kyoto, Japan, he studied the training methods of sumo wrestlers. He biked across Vietnam and even spent an evening at the home of his tour guide, David, outside Hanoi. There, Fitzgerald learned David's father was an elite special forces fighter for the Vietnamese Army against the U.S.
"He didn't speak any English, but for two hours, David translated battle stories to me and I was captivated. David's mom and sister cooked a wonderful, traditional meal, and the whole evening was the kind of authentic experience I really enjoy, that not everyone can have."
Almost seven years ago, Fitzgerald met another David—David Jones, a frequent traveler and former shareholder in the luxury travel company Ker & Downey. The two immediately clicked, and they started a friendly competition over who could visit the most countries. Jones even started organizing trips just for Fitzgerald. He arranged for the wide receiver to meet and talk with a CIA operative in Russia, and set up samurai sword lessons in Japan.
"So many guys, when they get fame, they just want to party and go crazy," Jones says. "Larry likes to have a good time, but he also really plans so that he can travel to places where people don't know him, and where he can really pursue his passion and learn."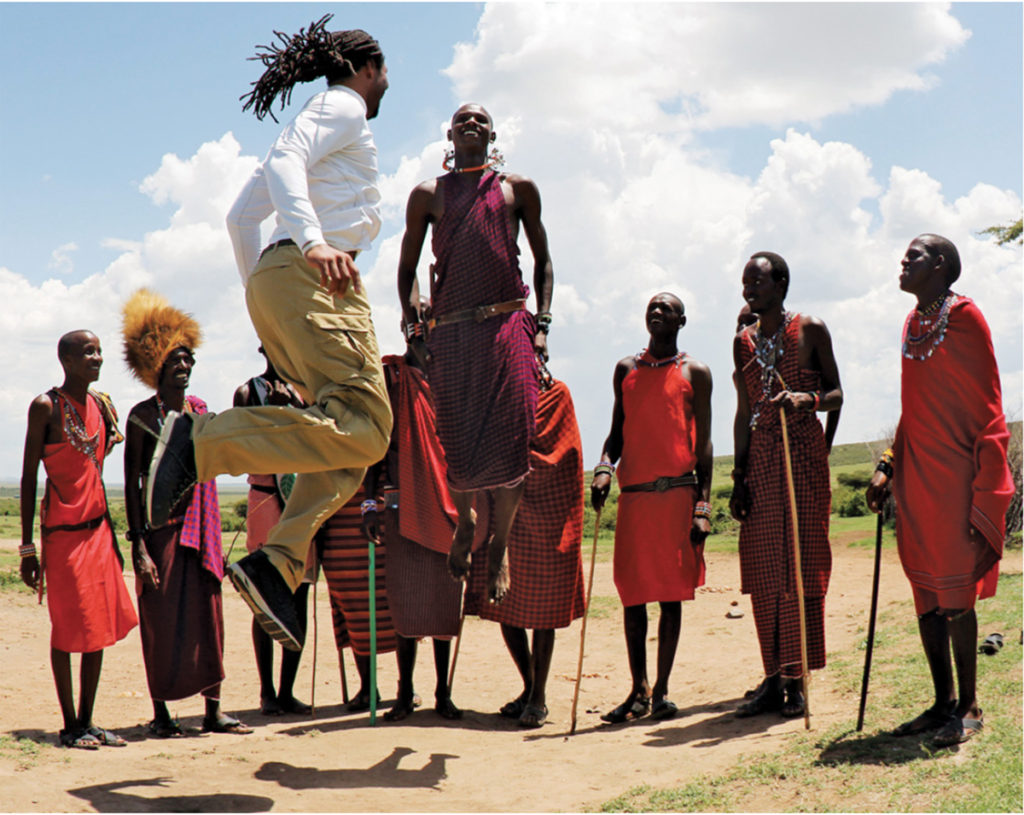 Fitzgerald says his love of travel began when he was young. Though his parents didn't have the financial means to travel abroad, they made a point of taking the family all over America, whether it was a long weekend to Mount Rushmore or a trip through Yellowstone National Park or Glacier National Park. "My parents are both from the city, so rather than camping, we'd rent a hotel room with running water and clean sheets," Fitzgerald says, laughing. "We were definitely exploring and sight-seeing, but they weren't too into the outdoors stuff."
But as Fitzgerald and Jones continued working together, they talked about starting their own travel company. In July 2016, the pair launched Nomad Hill, "a travel design company dedicated to creating life-changing experiences."
"The travel industry, especially in the high end, has left the millennial to themselves because they don't know how to deal with them," Jones says. "It's a diverse population. It's not just about going on a tour; it's about experiences. They want to be engaged in their experiences because they've been engaged in what they've done their whole life."
Working with Underbelly Creative, a digital design and development agency based in Salt Lake City, Nomad Hill created an algorithmic tool that looks at where you've traveled in the past, and makes recommendations for specific destinations and experiences, says Nomad Hill Director of Marketing Devin Littlefield.
"The customers are planning and collaborating, but we're helping them along—we're shaping their ideas to give them more fuel to arrive at where they want to," Jones says. "To have an experience that will literally change their lives."
Case in point: a trip that Jones designed for Fitzgerald and his friend and former NFL teammate Andre Roberts. In March 2015, the trio traveled to the secluded Siwa Oasis in Egypt. Jones arranged for Fitzgerald and Roberts to sit and talk with a Siwa family, a difficult task given the private and distinct nature of the isolated settlement (women are fully covered and typically do not speak to men outside of their family).
"It was a collection of unrehearsed, authentic conversations between two very diverse cultures that was transformational," Jones says.
Currently, as a brand ambassador for Nomad Hill, Fitzgerald connects other NFL players to the company, exposing them to the joys of transformational travel and often adding an element of philanthropy. In 2013, he and former teammate Anquan Boldin visited Ethiopia together. The Ethiopians were struggling through one of the worst droughts in their history, so the NFLers focused their resources and time on helping farmers find ways to irrigate.
"I knew we were in the right place at the right time," says Fitzgerald."I felt like we did good work."
Fitzgerald says he hopes to soon visit Scandinavia, along with Iceland and Greenland, which he'll organize through Nomad Hill. While he works day-to-day in the rigid structure of the NFL, Fitzgerald says Nomad Hill's name is more fitting for his off-season schedule.
"I like to go out and venture around, and David is the same way," he says. "I feel like I am a nomad."